Southern California is the place for anything men's volleyball. However, if we were to shine a magnifying glass on this particular area we would find that the highest concentration of volleyball stars come out of one mile by two mile town.
Manhattan Beach, California, the town that I grew up in.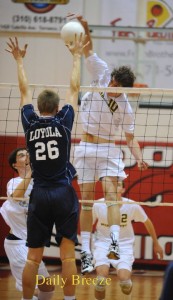 However, the kids that come out of this area are so talented that they have to split up into two different high schools to even have a chance to play by their senior year. Mira Costa and Loyola have combined to win over 20 CIF championships and eight National Championships. On any given year at least 10 players on each squad are recruited to play in Division 1 volleyball.
In addition, this is the biggest rivalry for either of these two schools in any sport. The match between these two schools gets so out of hand that they actually had to move the match to a neutral location each season. They separate the sides so that Loyola fans are on one side of the gym and Mira Costa fans are on the other. Last years CIF finals featured these two teams, and there were reportedly 5,000 fans in attendance.