The 1984 Charlie Saikley 6 Man Volleyball tournament featured the entire men's Volleyball Olympic Gold Medal team. A volleyball tournament with no entrance fee, no prize money, no trophy, played host to the best volleyball team in the entire world.
In 2011 this tournament played host to 90 men's teams, 65 women's teams, and over 100,000 spectators. It is safe to assume that at least 95,000 of these spectators had no idea which team won the tournament.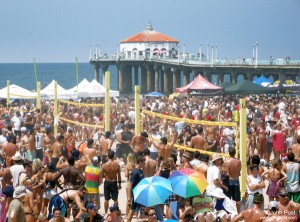 The most prestigious tournament in the country has turned into somewhat of a spring break-like destination over the past several decades. The event has turned into a dress up boozefest, but out of the 365 days in a year it is the most attention anyone ever pays to beach volleyball.
http://youtu.be/95IFeVvZDgw
So is this a pro or a con for the iconic tournament? The answer is actually both and neither at the same time.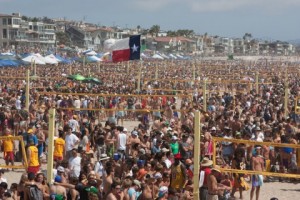 Charlie Saikley's goal in creating the tournament was that beach-goers of all backgrounds could watch the highest level of volleyball without any expense to them. Over all these years the tournament has remained to free to all consumers, and has hinged around the sport of beach volleyball.
Despite the drinking, costumes, and insanity that surround the event each year, the attention is still brought to beach volleyball. A sport that has struggled to find its identity gets publicity from the masses during the weekend of the 6 Man.